LAFEBER'S Premium Daily Diet or Gourmet Fruit Pellets Pet Bird Food, Made with Non-GMO and Human-Grade Ingredients, for Conures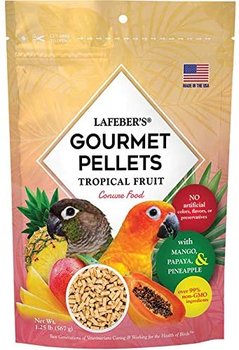 LAFEBER'S Premium Daily Diet or Gourmet Fruit Pellets Pet Bird Food, Made with Non-GMO and Human-Grade Ingredients, for Conures



The only fruit pellet with no added sugar or fructose. No artificial flavors, colors, or preservatives



Made with human-grade pieces of mango, papaya, and pineapple



Over 99% non-GMO ingredients



Omega 3 & 6 balanced for healthy skin and vibrant feathers



Essential vitamins, chelated minerals, and antioxidants promote a healthy immune system



Shipping & Returns
All items are shipped with FREE standard shipping within the US. Delivery times may vary especially during peak periods.
We are sure you will LOVE our products - however in the unlikely event of change of mind, we are happy to accept returns as long as this is within 30 days of receipt. Buyer pays return postage.
Abour Us
BirdDog Depot only offers safe and high quality items for all pets, specializing in Bird Food, Bird Toys, Bird Perches and Stands, and other pet items. We are the master distributor of all Birds LOVE® items. If you see them online from anyone else then they are likely counterfeit.
We have a total of 60 years experience with Hand Raised Parrots - we see what they like and design Toys and blend and offer healthy food that Birds LOVE. We are located in South Florida and have been in business for 10 years online.
If we offer it, you can trust the item was tested on our flock and is safe for your companion bird or animal.
Contact Us
CLICK HERE to contact us through eBay messaging system.
The only fruit pellet with no added sugar or fructose. No artificial flavors, colors, or preservatives
Made with human-grade pieces of mango, papaya, and pineapple
Over 99% non-GMO ingredients
Omega 3 & 6 balanced for healthy skin and vibrant feathers
Essential vitamins, chelated minerals, and antioxidants promote a healthy immune system